Awards presented at our January meeting.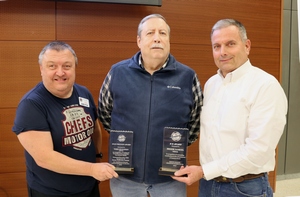 ---
February 26 – Club Meeting
Bluebonnet Library, 9200 Bluebonnet Blvd, Baton Rouge, LA
7:00 – 8:00 PM Meeting
Program: MFJ Enterprises
by Martin F. Jue, via Skype
March 7 – Technician Class Starts
Click here for information about this series of classes
March 8-9 – Acadiana Hamfest
Rayne Civic Center – 112 Frog Festival Drive, Rayne, LA

March 29 – USS KIDD
W5KID Special Event Operation
Vietnam Veterans Day
See our contacts page and events calendar for more information.
BRARC Code
Here is a statement of the Club's Code, whose key words are displayed on the Club Logo seen at the top, right corner of this page.
RF News
Click here for past issues of our monthly newsletter.
---
Name Badges, Mugs and Clothing with Club Logo
Click on an icon below to order these items. See instructions on the Lands' End page for placement of the club logo after selecting an item.