Brett Hebert, KG5IQU activated the Acadian Cultural Center (HP-17) in Lafayette, LA on April 22 & 23. He was assisted by his wife, Synomon KG5IRS, along with their two children, who are also Amateur Radio operators. Jon Reise, WA9JBR joined the operation on Saturday, along with several Hams from the local Lafayette radio club. The equipment consisted of a Yaesu FT-991 running 100 W on battery power to 40 and 20 meter end fed wire antennas at 25 ft. The operation accounted for 177 contacts in 40 states, including Alaska! The weather was perfect with sunny skies and temperatures in the high 70's and low 80's. The Acadian Cultural Center features the Acadians who settled Louisiana. It shares their history, customs, language, and contemporary culture with exhibits films, programs, and boat tours of Bayou Vermilion. The Center is part of the Jean Lafitte National Historical Park and Preserve system.
W5GIX will again be activating several of the Jean Lafitte sites (there are 6 in total) on August 25 – 28 for the National Park Service Founders Day Centennial. Operators are needed. Contact Brett Hebert to sign up or to get the details.
---
Throughout 2016, Amateur Radio is helping the National Park Service celebrate their 100th anniversary. Hams from across the country will activate NPS units, promote the National Park Service and showcase Amateur Radio to the public.The ARRL National Parks on the Air (NPOTA) event runs in parallel with the National Park Service's centennial. The program runs from 0000 UTC January 1, 2016 through 2359 UTC December 31, 2016.
Baton Rouge Amateur Radio Club members are on the air throughout 2016 as W5GIX for ARRL National Parks on the Air commemorating the 100th anniversary of the National Park Service.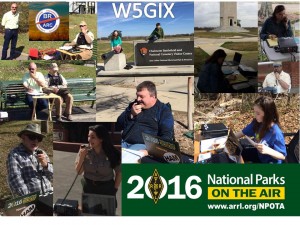 Pictured clockwise from top left: AG5AY & KD5MLD, KG5KRV & KG5LLM, KG5IRS x2, KG5IQU, KG5KRV, KB5TMD, Ranger Angelle, KG5HLC, AG5AY & KD5MLD
W5GIX activated HP17 from the Chalmette Battlefield and National Cemetery Visitor Center as part of the ARRL National Parks on the Air year-long event. Chalmette is one of six units that make up the Jean Lafitte National Historical Park and Preserve.  41 contacts across 12 states were made during the one hour activation on 40 m. Contacts were made in AL, AR, FL, GA, IL, LA, MS, NC, OH, SC, TN & TX. KG5IRS (Synomen) operated portable near the Chalmette Monument at 100 W SSB with an end fed half-wave 40 m dipole up 20 ft between trees behind the visitor center.
The day before, W5GIX logged its first Logbook of the World contact from the Prairie Acadian Cultural Center in Eunice, LA. It was with N5KIP (Dick) on 40m. KG5HLC (Thornton) and KG5IQU (Brett) made several contacts and the Park's Ranger even got on the air and had a QSO.
Club members KB5TMD (Todd), KD5MLD (Mike), AG5AY (Jerry), KG5KRV (Brynn) & KG5LLM (Logan) have activated and scouted parks the club will visit later in 2016.
Sites Scouted:
Acadian Cultural Center in Lafayette, LA
Barataria Preserve in Marrero, LA
Chalmette Battlefield & National Cemetery in Chalmette, LA
French Quarter Visitor Center on Decatur St. in New Orleans, LA
Prairie Acadian Cultural Center in Eunice, LA
Jazz Center in Louis Armstrong Park, New Orleans, LA
Natchez Visitor Center in Natchez, MS
Potcopinu Trail near Natchez Trace Parkway milepost 20
Mount Locust Inn & Plantation near Natchez Trace Parkway milepost 15
Davis Bayou Area in Ocean Springs, MS
Vicksburg Visitor Center, Tour Road, USS Cairo, Fort Hill in Vicksburg, MS