Repeaters
Nets
146.790 – (PL tone 107.2)
ARES Net – Sunday 8:00 PM
146.790 Repeater
444.400 + (PL tone 107.2)
BRARC Club Net – Sunday 8:30 PM
146.790 Repeater
Ten Meter Net – Monday 7:30 PM
28.450 MHz USB
Ready to upgrade your General License to Amateur Extra?
Get the details on this web page
October 3 – Board Meeting
6:30 pm meeting on Microsoft Teams video. Todd, AB5TH, will provide the link.
October 13 – US Navy Birthday
Our club station W5KID onboard the USS KIDD will be on the air to celebrate the birthday of the US Navy. We invite experienced and recently licensed hams to come and operate the station.

You may sign up here for one or multiple 30-minute time slots to reserve your operating time. Please sign-in at the Museum entrance (on the volunteer log) prior to going to the ship.
We recommend that members wear call sign badges or ham radio apparel to help identify them to museum staff and visitors as representatives of our club and the amateur radio community. Here are additional Operating Reminders.
October 31 – Club Meeting
7:00 to 8:00 pm
Bluebonnet Regional Branch Library
9200 Bluebonnet Blvd, Baton Rouge, LA
Program: Fire Safety in Ham Radio
Presenter: Jeremy Gerald, AD5XY
December 2 – License Exam
Information about our next license exam session is available at this page.
---
BRARC Code
Here is a statement of the Club's Code, whose key words are displayed on the Club Logo seen at the top, right corner of this page.
Name Badges, Mugs and Clothing with Club Logo
Click on an icon below to order these items. See instructions on the Lands' End page for placement of the club logo after selecting an item.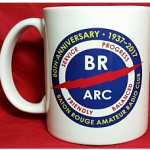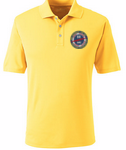 ---
---