License Exams (VE Testing) 2017
October 31
at East Baton Rouge Parish Main Library, 7711 Goodwood Blvd
To take a test, candidates need to bring the following:
Pencil(s)
$15 check made out to ARRL VEC  (We prefer checks, but will also accept cash.)
Photo ID
Copy of your current FCC license or CSCE (for those upgrading)
Calculator – This is optional and you must be able to demonstrate that the memories are blank.
Test time is 6:00 pm; plan to arrive by 5:30 pm. These test sessions occur once a quarter and are held at 6:00 pm.
In addition, we recommend, if you are taking your first test, that you register with the FCC and get your FRN number.  This can be used on the forms instead of using your Social Security number.  You can register here.
---
License Classes
Brett Hebert, KG5IQU is offering a Technician License class beginning on Thursday, September 7th, 6:00 pm at the Main Library at 7711 Goodwood Blvd. The class will take place in the Technology Lab on the 2nd floor. The class will use Stu Turner's text Technician License Course.
For more information send email to 

---
Amateur Radio License Classes
Ham Radio, also known as Amateur Radio, is a popular hobby and a service which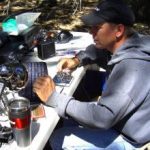 licensed participants operate communications equipment, with a deep appreciation of the radio art. Now you can join this hobby of 700,000 U.S. Ham Radio operators in a course that meets one night per week.  Morse code is no longer a requirement for the FCC license, but still very popular. Several other modern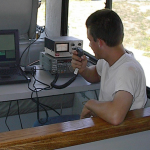 communications modes including voice, data, and television are used today. Satellites, the internet, and radios are all part of the hobby now. Join the fabulous, fun hobby of Amateur Radio by registering for a class today.
Classes are normally held at:
Baton Rouge Main Library – Second Floor
7711 Goodwood Blvd
Baton Rouge, LA 70806
There is no cost for the class, but it is recommended you obtain the class text.
For more information, send email to: 

---
New Licensees – October 2016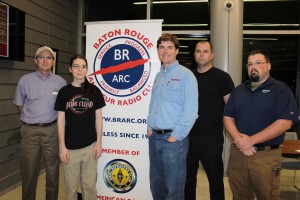 At the October 25 license exam session, the following individuals (pictured from left to right) earned their ham licenses: Todd Young, Robert Fontenot, Daniel Webb, Cory Rogers, David LeBlanc. We congratulate them and encourage them to become active with our club.